Since November, 2019, an international team of 21 scholars from universities and business schools has been collecting data on the experiences of international students in and across various academic and cultural contexts on three continents. Our Alma Mater, the University of Warsaw, is proud to be a founding member of the project. The ISE (International Student Experience) Project partners are located in:
Poland (University of Warsaw, Warsaw University of Technology).

Denmark (Copenhagen Business Schools);

Finland (University of Helsinki);

France (IESEG School of Management, ESC Clermont, University of Strasbourg);

Italy (University of Bologna);

Germany (TU Bergakademie Freiberg);

The UK (Loughborough University London and University of Liverpool);

Canada (Royal Roads University, Northeastern University – Toronto, Ryerson University);

Australia (RMIT University);

Mexico (EGADE Business School, Monterrey);

The USA (Northeastern University, University of Kentucky).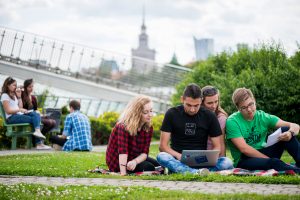 Why ISE?
The ISE Project was initiated in 2018 by Dr Terence Mughan (Royal Roads University, Canada, Anglia Ruskin University, Cambridge, UK). It was inspired by Dr Mughan's and his colleagues' pilot study of informal channels through which international students integrated into their Canadian university. That study found that international students try but struggle to "make friends" and that informal networks and friendships are the key to creating social spaces and intercultural space. Although university support is helpful in the integration process, the scope of that support is still limited.
The research results call for a broader study that would map higher education policy and environment in a range of countries. The ISE Project responds to this call by considering both the host-country factors and students' country of origin factors in adaptation to university and community. Specifically, the ISE Project aims to:
obtain a picture of the international student experience that is not driven by institutional or national policy perspectives and understand its complexity across and between multiple home and host locations;

help establish students as bona fide agents in the international business, management and development spheres;

get a better deal for students in terms of their status and contribution in university life and host societies more broadly;

obtain data and develop theories and models that improve the scholarly literature on students and the education they receive;

develop intercultural and language learning models, materials and techniques that improve the ISE for international students themselves and also for domestic students.
The international student perspective
To understand how international students integrate into the host academic community and society at large, and how their intercultural experience shapes their academic, career, and life scenarios, it is vital that their voice is heard. Most studies by universities and decision makers basically focus on students' academic performance and their value for domestic economies, and thus overlook the student perspective of their experience. Unfortunately, the lack of student perspective leads to situations when international students are undervalued or poorly served.
How will international students benefit from the ISE Project?
Besides pure theoretical value, which will be of great interest to academic community, the ISE Project is planned to offer students a better deal in the future by developing language and cultural programs tailored to their needs in the specific country context. Our partner institutions will benefit from the ISE Project in that the university authorities will be informed about the actual experiences, needs, and expectations of international students concerning their preparation to function in class, as well as in non-academic contexts, for example, by strengthening their prospects on the host country job market.
Hence, the students who will participate in the study will be able to exert a real impact on the development of programs in our university, which will support international students' adaptation, learning, and performance in our university, as well as improve their readiness to contribute to their local community and society.
Experiences of international students at the University of Warsaw and University of Bologna
As an international student of the University of Warsaw, Poland and University of Bologna, Italy, you may personally contribute to the ISE Project by sharing your experience with us by completing an online questionnaire survey:
Click here to share your experience at the University of Warsaw and in Poland.
Click here to share your experience at the University of Bologna and in Italy.
How to monitor the progress of the ISE Project?
To find out more about the ISE Project and research results in the University of Poland and other universities abroad, please visit our LinkedIn site.
Thank you for your interest and contribution!